JayDee Wondered: How long does it take to recover from tonsillectomy?
…and is it really that bad? Read on…
Greetings all! Shoutout to everyone who is recovering from this procedure. I saw how there are so many horror stories about having T&A. I figured I'd share my positive experience.
Me: 34 year old woman who had almost kissing tonsils. Every time I opened my mouth to say "AHHHH", some medical professional would exclaim how large my tonsils were. Experienced years of tonsil stones, tonsillitis, a couple bouts of mono. I also experienced catching any and every bug that went around. I constantly felt "sick" and had low levels of energy most days.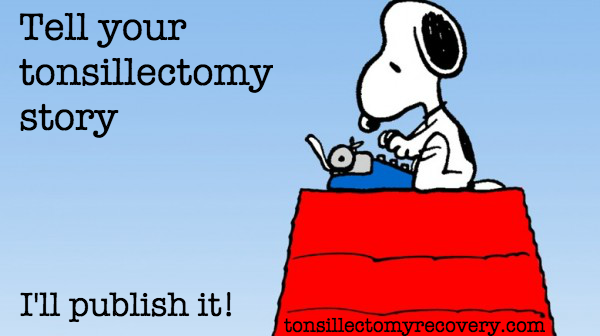 After my latest bout with tonsillitis, I asked my PCP for a referral to an ENT. Two weeks later I was at the ENT's office. He took one look in my mouth and told me "these have to come out!". I knew in my heart that he was right, so I went ahead and scheduled the surgery. I was hella nervous because I'd never had surgery in my life. I can't tell ya'll how many times I considered cancelling it. But I pressed on.
Surgery day (I consider this Day 1) – I was scheduled for a 7:30AM check-in time. Arrived around 7:20 to get signed in, filled out a form, and headed to the waiting area. Right at 7:30 they were calling for me. I was weighed then whisked into a room. "Take off all your clothes and change into this gown!" I was like LOLWUT? I didn't know you had to get butt naked under the gown. Glad I wore my good undies! The gown I was given was some kind of special gown that had all kinds of openings for temperature adjustment and easy tube access. That's great and all but it was basically paper! I was more nervous about splitting my gown than the operation at that point! Okay finally dressed and in the bed. Several visits from the docs and staff. IV was started. Anesthesiologist nurse came in and wheeled me away. We get to the OR and she tells me she's giving me something to help me relax. But first I they needed me to scoot onto the table. And scene! I was out like a light. 10 years or 2 hours later, I came to. I remember all the training I read online so I immediately asked for ice chips. Hung around in recovery for a spell and was wheeled back into my room. My beautiful GF was waiting for me there. Nurse checked my vitals and said I was good to go. I was discharged around noon. All I remember is how sleepy I felt. The hospital is only 15 mins from my house but I slept the whole way home. No nausea thanks to this super cool patch they placed behind my ear. It only lasts 3 days but I kept it on 10 because I felt like it was my lucky charm! Anywho, took a dose of pain meds and went to sleep. No appetite but I drank water and Gatorade around the clock. STAY HYDRATED!!!
Day 2: Still no appetite, but continued to push fluids all day. I kept my humidifier right by bed. I ran it all day and night with the door shut. My room stayed nice and moist which helped out tremendously. Downloaded this add called Medisafe where I just downloaded all my meds and set reminder alarms. I was prescribed Tylenol 3; the dose was supposed to be 2 teaspoons every 6 hours. I took 1 teaspoon every 3 hours during the day, the around 1AM I took 2 teaspoons so I could sleep till morning. I was also given an antibiotic to keep infection at bay. Laid in bed most of the day. Pain was pretty tolerable.
Day 3: Pain ramped up a notch to maybe a 4/5. Still tolerable. Realized that I hadn't made a BM but that was the least of my concerns at the moment. Finally decided to try food, chicken noodle soup at maybe 1 degree above room temp. The broth felt great but didn't like how the noodles felt going down my throat. Seemed like they were stuck even after I would sip water. About 10 mins later I was tired of the soup, so I went back to bed. Still keep pushing fluids. Peeing like a racehorse.
Day 4: Pain went down a notch. Finally started to feel hungry. Seemed like eating before was a mission. I actually wanted food. Tried some easymac. I got maybe a 1/3 of it down before tapping out. Actually felt well enough to watch my team play football. Couldn't cheer because I still had no voice.
Day 5: Pain was maybe 3/10. Staying on top of med schedule really helped. I was sooo hungry. I could only think about what I'd for a slice of pizza. Kept dreaming about food. Probably made a list in my head of what I would devour first. Took some milk of magnesia for my gummed up bowels. No luck. Discussions of possible enema, prayers to God that it wouldn't come to that.
Day 6: Pain still around 3/10. Very tolerable. Tried a donut and success! It went down with little issue. I usually love donuts but right now I saw the donut as survival and not dessert. I got the bright idea that just maybe I could eat a soft taco from Taco Bell for dinner. It took me 30 mins to eat but that worked too! I was really feeling then. Still no voice but I had some food in me. Checked the scale, only down 5 lbs.
Day 7 and 8 – Pain went to a 1/10. Figured this would be a good time to wean off the pain meds. Only took 1 teaspoon every 6 hours. Kinda lost my appetite those days but managed to put away 1 taco a day. Mustered up the courage to take a look inside my mouth…whoa!!! All kinds of gray coverings. Breath smelled like behind a dumpster.
Day 9 – It was like a whole new world. Woke up in zero pain!!! Scrambled some eggs for breakfast, could only finish half of it. Food doesn't really taste the same right now plus it's kind of a chore to eat. Ears would hurt a little after eating. Stopped about 10 mins later. Went to the movies. Wanted popcorn sooo bad but knew it would get stuck. Was kind of tired afterwards but okay.
Currently on Day 10 and feeling great. Have a bit of cabin fever but can't return to work until after post op visit. Eating is still tedious and taste buds are a bit off. No pain when I swallow water but swallowing food can be challenging. Still have about half my scabs. Hoping they stay on as long as needed to prevent bleeding.
My advice: STAY HYDRATED, chew lots of gum. Download Medisafe and stay on top of your meds. Don't get discouraged if you're not able to eat, keep drinking. Invest in a humidifier. Take a shower every day, it will help you feel human. By day 4, take short walks outside. You need sunlight and activity. Get Magnesium Citrate *sp*, if your bowels are stopped up, trust this stuff will unstop them. Keep a positive attitude. Finish some books you've been meaning to read. Be a good patient to those helping you out.
I feel so much better after having this done. I can breathe effortlessly now. My sleep has improved. Looking forward to this helping me have more energy so I can work-out and lose more weight. I think it's gonna be a game changer!