Tonsillectomy Pain Management
I added the topic of tonsillectomy recovery pain medicine to the, "Before Tonsillectomy," menu for a reason. The time to discuss pain management with your doctor is NOT at 3 a.m. on day six of your recovery when you've run out of pain medication. Sitting in your doctors office before surgery with a clear head, during his or her normal hours, is the time to have a rational discussion of your tonsillectomy pain medication. It's also a good time to discuss other medications like anti- nausea drugs and steroidal anti inflammatory medication. I go into more detail in my book, but suffice it to say that pain management is best discussed in advance, in the light of day, with clear heads.

There is no one right answer to the question of how to address tonsillectomy recovery pain medicine. I recommend discussing expectations with your doctor before any prescription is written. Some doctors appreciate how painful a tonsillectomy recovery can be for an adult. Some do not. Having experienced it myself and read the accounts of thousands of tonsillectomy patients I can say with confidence that ten days is a pretty average length of time that pain management will be an issue after surgery.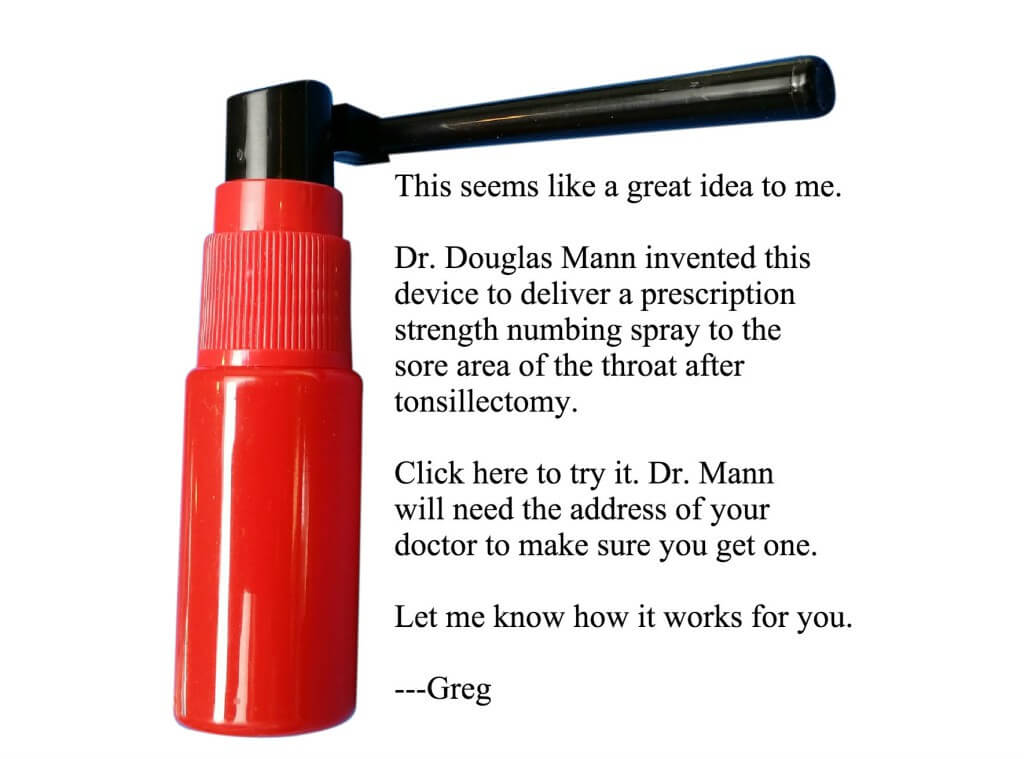 If I had it to do over, I'd ask my doctor to write a prescription for a pain medicine without acetaminophen, (e.g. Tylenol), in it. Many common narcotic pain medications contain acetaminophen. Too much of the stuff can be quite dangerous. A problem arises when one tries to ween off the narcotic pain medicine and switch to simple acetaminophen. If there's breakthrough pain, taking another drug that ALSO contains it can be dangerous. If the two are separate, the patient can alternate as needed. Ask your doctor.
In my book I also discuss some of the effects of taking narcotic pain medicine for several days- not as a doctor, but as a patient who experienced it. I wouldn't face the surgery without these medicines, but a little knowledge could have helped me cope better.
Tonsillectomy pain medicine isn't always chemical. Drinking cold ice water, chewing gum, or applying ice to the throat can also help reduce the pain and inflammation associated with tonsillectomy surgery. Many patients also get short term relief from throat sprays like Chloraseptic.
In short, I recommend being your own advocate in your pain management. Be straight forward and honest with your doctor and ask for a second opinion if you feel your doctor is not addressing your concerns.After your tonsillectomy, don't be afraid to contact your Doctor's office with questions or concerns about your tonsillectomy recovery pain medicine.