Tonsillectomy patients often peer into their throats and wonder, "is this normal?"  What they see is never pretty.  For some it can be quite disturbing.  Since I've started the forum, the description of post tonsillectomy throat has been one of the most common discussions.  Believe it or not, people send me pictures of their throats all the time.  Of course I appreciate it.  Here is s series of photos from one tonsillectomy patient from each day of her tonsillectomy recovery.  A warning:  These tonsillectomy recovery photos may not be for the faint of heart! To enlarge the pictures simply click on the image.
The Dynamic Duo!
These two little machines will become your best friends.  Give tonsillectomy recovery a One-Two punch!  A humidifier is probably the single most beneficial item to have at your side as you recover.  Drinking ice cold slushies will feel good, reduce inflamation,  and keep the throat activated, thus stimulating the healing process.
Order today.  Have it tomorrow from Amazon.

-Greg My short bio

More tonsils pictures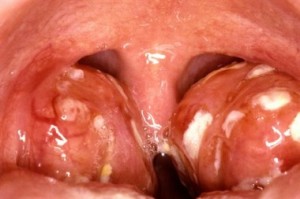 ---