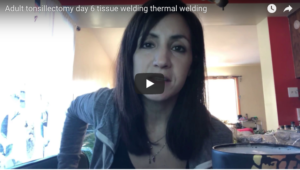 Jennifer Chronicles her Thermal Tissue Welding Tonsillectomy Recovery in Video
My name is Jennifer. I'm 38 and a mother of two. I work full-time in a school. I decided to have my tonsils removed for two reasons;
1. tonsil stones -disgusting, repulsive, just yuck, and,
2. tonsillitis-I had that frequently.
Tissue Welding Tonsillectomy Method
I went with the tissue welding thermal welding tonsillectomy procedure because I have a weak stomach when it comes to narcotics and after reading the horror stories, I figured that I could never have them out with plain ol' Tylenol and Motrin. I was wrong.
I've been making a video diary day by day if you want to check it out. I talk too much, but maybe that's better than not saying enough. I'd be more than happy to answer any and all questions that you have. I am riding into day 6 here come tomorrow morning, and I haven't wished for death. I haven't felt like my pain was even a five.

This is my youtube detailing my experience Best of luck to all. It doesn't have to be horrible.








Transcript
00:00
hi it's Jenny again it's day 9 of my
00:04
tonsillectomy
00:05
I didn't update on Saturday or Sunday
00:10
because there was really not much to say
00:13
I haven't been in pain since Saturday I
00:15
haven't taken pain medicine since
00:17
Saturday and I went back to work so I
00:19
really didn't have a lot of time a
00:23
couple of things that are new I guess
00:30
are that one I have these really weird
00:35
taste buds now I haven't been able to
00:39
drink coffee since Saturday I thought it
00:42
was like maybe my own coffee so I tried
00:44
a couple different kinds like Starbucks
00:47
and Dunkin Donuts but all coffees taste
00:50
terrible so yesterday I had like a major
00:53
caffeine withdrawal and I got the
00:58
headache of this century which turned
01:01
into a stomachache and it kind of gave
01:05
me an emotional breakdown probably the
01:07
worst day I've had since my
01:09
tonsillectomy was honestly the caffeine
01:12
withdrawal I was in tears because I
01:17
couldn't get this headache to go away
01:19
and it was literally like my head was
01:20
throbbing and I don't even drink that
01:22
much coffee but I really never stopped
01:27
drinking it until Saturday and then you
01:29
know by Sunday my body was kind of
01:34
rebelling so a couple of other things
01:39
are that it's still slightly slower to
01:45
swallow just the tiniest bit alright I
01:48
guess it still feels like I really have
01:52
to work my muscles to do it and but not
01:58
in a painful way when I try to drink
02:01
water real fast it's now this like
02:03
cavern back there so it sloshes all
02:07
around and it doesn't really work to
02:08
chug waters so I don't really like that
02:11
because even though I didn't drink
02:13
water the recommended way while I was
02:17
healing I really do like to drink a lot
02:21
of water during the day and I like to
02:23
drink it fast and I can't now because it
02:26
just kind of sloshes all around and it
02:28
doesn't really go down kind of like a
02:30
weird waterslide thing and I still have
02:36
not been able to eat as much I don't
02:38
know if I'm trying to make up for eating
02:39
by trying to eat too fast but I keep
02:43
kind of choking a little bit or things
02:46
are still getting a little bit stuck
02:48
back there and I still have a film of
02:53
like scabs but it's not nearly as bad as
02:56
it was my tongue is not nearly as bad as
02:58
it was so I anticipate that I guess when
03:03
everything's back to normal maybe in
03:05
like pink and it feels more normal to me
03:12
to have this big open space maybe eating
03:16
and drinking won't be so odd other than
03:21
that I feel great I think that if you
03:24
are looking into getting a tonsillectomy
03:26
I recommend that you look into the
03:30
tissue welding because I can't really
03:35
say it's been a bad experience I mean
03:37
it's it hasn't been Pleasant
03:42
but I wouldn't definitely wouldn't call
03:45
it the worst experience of my life at
03:46
all I've had two c-sections I had a
03:51
couple other surgeries but you know if
03:55
if Children's Tylenol and children's
04:00
motrin could handle the pain that I was
04:03
feeling and I could get up on day 2 and
04:05
go about pretty much my daily life
04:07
besides my eating and drinking then I'd
04:10
consider it a pretty good outcome good a
04:14
pretty good procedure so you know if
04:20
there's a doctor close by I would urge
04:23
you to look into it I know there's not
04:24
that in that much information because I
04:26
was scouring
04:27
web looking for like patient stories
04:31
about tissue welding but really and I
04:34
found a couple but really I went by what
04:36
the nurse said at the doctor's office
04:39
because I was like you know what are the
04:41
patients saying are they telling you
04:44
that it's really painful because I told
04:47
her you know I was scared and stuff and
04:48
she said no so I I wouldn't expect her
04:53
to lie to me you know the other the
04:56
doctor that was gonna I was going to
04:57
have them do the cauterization you know
05:01
they said your throats gonna be really
05:03
sore or I don't even know what they said
05:08
but they I don't even feel like they
05:10
were more optimistic I felt like this
05:13
doctor and their staff made it so that I
05:17
wasn't nearly I didn't have nearly as
05:20
much anxiety and it was for good cause
05:22
because it really it wasn't terrible so
05:29
if I have any more updates or like you
05:32
know maybe when my scabs are fully
05:34
healed or when I feel like my eating and
05:37
drinking is back to normal make another
05:38
update so that I can tell you that you
05:41
know it's taken this long I mean right
05:43
now on Monday 9 I have also not had any
05:47
bleeding not even a drop I know that's a
05:51
big concern for adult tonsillectomies
05:54
even kids tonsillectomies as a side
05:56
effect and a side effect but as
05:57
something that can possibly go wrong
05:59
I've not had one drop of blood come out
06:01
of my mouth or down my throat I haven't
06:03
had that metallic taste in my mouth at
06:05
all either so I consider that pretty
06:08
good so if there are any new
06:11
developments I will make a video or when
06:16
I feel like my throat is completely
06:17
healed I'll make a video to kind of tell
06:20
you that it's taken you know X amount of
06:23
days to get back to what I feel like is
06:25
100% normal
06:27
other than that it's warming up here in
06:31
Illinois so I'm thankful for that I'm
06:34
gonna be going to work here shortly and
06:35
I just look forward to continuing to get
06:40
better
06:41
so everybody have a great day thanks Pam