Advantages vs Disadvantages – Pros and Cons of getting a tonsillectomy.
Have you had a tonsillectomy? Please add your thoughts on the upsides and downsides of having the surgery.
Are you trying to decide whether to get a tonsillectomy? Read what others who have done it have to say.
Many of us have lived with large tonsils, perhaps with crypts or crevices. Maybe you've had to deal with tonsil stones and bad breath.  Perhaps you've snored and bothered you partner or, worse yet, suffered from obstructive sleep apnea.  Opinions about tonsils and their importance in the bodies immune system vary from professional to professional.  Most would agree though that there is a tipping point- a point at which the benefits of having tonsils and the risks of taking them out, is outweighed by the benefits of having them removed.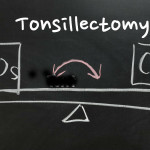 There are various treatments for all the conditions of mentioned.  This page is focused on tonsillectomy.  Perhaps we can all help those who are still on the fence about getting those tonsils removed.
Here are some thoughts to get things started. They are a collection of my own thoughts, as well as those of my readers on Facebook and also my other website about tonsillectomy recovery.
Please add any of your own:
Pros
Can breathe easier
Don't have to worry about getting tonsillitis ever again
Less strep
More energy
Sleep better
Breath is better
No tonsil stones
No more tonsil crypts
Less snoring
Fewer sore throats/ tonsillitis
Cons
Recovery pain
Bleeding risk
Cost
Disturbed sense of taste
Time required
Please add your comments below. I'll make them a permanent part of the pros and cons tonsillectomy page. Thanks!