29 years Female -Caribbean (The Bahamas)
hello
Thank you so much for putting togther this forum;it has been so helpful. However i wish I had discovered this before my tonsillectomy to be better prepare.
When I first decided to do it and in speaking with my ENT he advised that would spent one night in the hospital after the procedure for monitoring which I thought was not necessary. He then advised that I will be out from work for about 3 weeks which I then ask him is ut really needed. I made up mind that if i felt better before the three week i just go back to work. I realizing now I probably that going back to work early is not going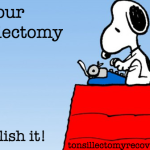 Day of procedure
My procedure was schedule for August 21st 2017 (soo I am recent). I didnt realize when I booked that day the solar eslipe was going to happen which made me more uneasy. All sort of thought ran thru my mind; what it the power went off and for some reason due to freak of nature the genator will take longer than usually to kick in all because of this galactic event happen (Crazy me). So i decide to be the first one in OR as the ENT started he working 730am.I was also neverous because I never before been put to sleep so I was afraid of not waking up. I kept asking all the nurses and the doctors how long will it take of course the a sure me not long less than 20 minutes. It was in fact quick i was particially in and out of the OR. I woke up asking for pain meds which the provide thru an I V. For most of the day I was slept. So I hardley felt pain. I was able to eat lunch which was mash potatoe and some veggie and some steam Tuna. After that I went back to sleep. Took some Capol and antibiotics when back to sleep. I was able to eat dinner potatoes again and veggie with Tuna. Before bedtime I was give some Voltaren liquid med thru IV which put me off to sleep again. I woke up around 1am in with a sharp pain in my throat I decide to eat some ice to relieve it but it was no help. I then called the nurse who gave me some Capol. That help but of course woke up with hours of taking it with pain.
Discharge Day (Day 2 )
Got early because I was eager to get out of the hospital i was given a dose of Voltaren befpre Capol and antibiotics before I left. My ENT requested I do a follow up the next day. I slept most of the day wake up only to take meds. I didn't eat anything only tried the ice cream and ice chips but swallowing was hard and painful. Like most of you stated Ice cream should not be recommended as and aid in recovery especially during those first 5 days. Maybe a sorbet be used or advise (as it used to cleaning the Platte before your main course). The night was rough with pain and dry mouth.
Day 3-4
This was my follow day with the ENT which he said everything is going well and to continue with the meds. I would have another follow up the following week. As usually on these days i rested and tired to eat but nothing the pain would just consumer me.
Day 5 -7
This were my worst pain level days ever! I thought that the pain meds were not workings and called my ENT to see if he could have given me something stronger. He advise that i should be taking my Capol every 4 hours. Because I wasn't keeping a med log like recommended by most of you; I was guess when my next dosage time hence caused me tonhav so much pain. Soooo on Day 6 I decided to keep a better record of my meds time. On day 7 at 530 am I had taken my first dosage of Capol for the day seconds later I felt like a water sprout was in the mouth and a pool of blood came out. It was like my throat had sprung a leak. I ran in my bedroom where my husband was asleep turn on the light and stood in the door with blood spurring from my mouth my husband rush me to Accident & Emergency A&E . All sort of thought ran thru my mind I was like, is this it and started to pray. On the way to the A&E my husband called my ENT and advised him of what was happening he decided to meet us there. I was bleeding so much that I swallow some😷. My husband was such in panic that missed the short route to the A&E. By time we reach it was the sprout had stop. The good thing of living on a small island is that everyone knows everyone. My doctor was able to call one of the attending doctors in A&E who was able to assist me until he had arrived. When he came he advised me that a piece of the scab had fell off and sometime when it happen you bleed. Of course he said if I had called him before I left home he would have been able to tell my husband what to do to control it. But I told blood was gushing and I panic. I was give ice pack to place on my under neck around the throat area. He cleaned around the area I had already began to clot as he took out some of the clots. I was given a shot of pain meds and garval(settle my stomach since I turn into a vampire for those couple of minutes). I was discharged and told to keep the ice pack on most of the day and sleep with my head elevated and also to do a follow the next day. I slept most of the day taking my pain meds. By this day I had gotten a better grip on taking my pain meds and was able to monitor it better. However i felt awful. I thought was doing this necessary. I thought to myself that i should have just dealt the tonsillitis as the came instead of taking out my tonsil. 🙁 I was feeling helpless and felt like I made a poor decision.
After Day 7 event I decided to Google what had happened to me and saw similar story and some giving the same details has to what they had done in that event. I then discover this forum that is really helping understand this recovery process as each day passes. It is one thing hear your doctor say by day 10 you will be fine and reading for other experience that it will get better.
I am happy that I found this forum it helped me understand what I am going thru and what to expect in the coming days.
Recommendations
Do take all the time give to by ur doc don't rush back work
Drink plenty of cool clear liquid as every stated at every 20 -30 second it helps
Try the sorbet instead of the dairy made ice cream. (i am going to try it today)
As stated do keep a log of your meds intake.
oh and get a humidifier it helps at night. After reading about how helpful it was i got one and it works. Two days wake up without a dry throat.
Remember it going to be fine take each day day. Use this time to Commune with God or mediate since u cant talk to much!