Tonsillectomy at age 26 – a smoother recovery experience
I am 26 years old and just recently had my tonsils removed. I wanted to tell my POSITIVE tonsillectomy story because when I was searching for personal experiences both online and in my social circle, I was hard pressed to find anyone say anything positive.
The day before the surgery, I wasn't able to have anything to eat and drink after 9pm. My surgery was schedule at 8am on Tuesday 5/31. After I woke up from the anesthesia, I was in the recovery room for about an hour. My throat was sore but nothing that was unbearable or surprising. After they moved me back to my little room, they offered me some ice chips or water/juice if I wanted and at this point I still wasn't in much pain. The next couple days were just me taking the liquid medication they prescribed (hydrocodone) and sleeping.
I drank as much water as I possibly could and slept with a humidifier which I would say are the two most important tips of the entire process. Luckily, I didn't have much trouble with pain management. I would consider myself to have high pain tolerance and it really helped with this surgery. Everything I read said days ranging from 5-9 (depending on the person) were the worst for pain but I didn't experience much more pain than I ever had from strep. I was able to wean myself completely off the medicine by day 5. Yes, my throat hurt but it wasn't unbearable in the slightest.



The only negative part of the entire experience is I wasn't able to eat anything until day 12 and lost 20 pounds, which to be honest wasn't that negative haha and I think most of it was just fear of causing bleeding. Today is day 15 and It still hurts a little but I can eat and talk completely fine. My voice completely changed though! I used to always sound sick even when I wasn't and now my voice is a little higher pitched but clear sounding and I have slept better in the last week than I have in years (my tonsils were so large they were touching and causing sleep apnea).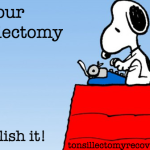 All in all, I wouldn't let the horror stories you read online scare you. It was the best decision I could have made!